Corporate Communication Training and Consulting
In leadership, communication drives results.  Being able to communicate authentically and powerfully can help executives command attention, motivate and inspire people, strengthen relationships and share their vision internally and externally.
Discover and amplify your executive "star power"!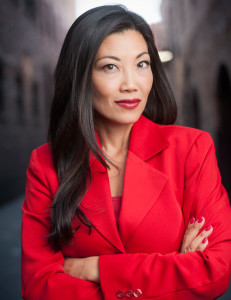 My mission is to help people speak up and step into the spotlight in their professional and personal lives.
As a news anchor and reporter who's worked in broadcasting for more than 20 years, I've interviewed thousands of leaders, celebrities and newsmakers and I've also appeared as a expert on local and national shows. I know what it takes to get a message across effectively and package it in a way that informs, inspires and moves people.
While not every executive will have media opportunities and need to be on TV, as leaders they are in the spotlight all the time. The business landscape has changed, besides communicating face to face, executives need to be effective across various mediums from video conferencing, webcasts, live broadcasts in meetings to videos and TV.
My experience in the corporate world combined with my years in the television and speaking industry and my passion for bringing out the best in people helps me understand my clients needs and fears, connect with them on a very personal level, and give them "real world" insight, strategies, tools and inspiration to amplify their executive "star power".
Each executive is unique.  My goal is to help them get clear on their personal communication strengths and weaknesses, discover their natural abilities and give them the tools, strategies and support to be powerful authentic communicators. They will feel confident, prepared and effective in any situation-whether it's communicating in person, on stage, on video or in the media.
Overall Executive Presence and Communication Skills
-project clarity, confidence and presence in your delivery
-build your brand, win trust and move people to action
-discover how to embrace your fears and anxiety and use  them to your advantage
-learn vocal warm-up and training exercises
-wardrobe and make up tips to help you look polished and  enhance your natural image and charm
-prepare clear concise messages that keep the audience's attention
-inspire and move people with personal stories that audiences will remember
-speak more conversationally
-use body language more effectively
-present technical or complex material so that everyone understands
-be more persuasive and win support
-develop a confident and relaxed presentation style
-discover the different skill sets needed to be a moderator and panelist 
-learn how to research a topic, write a welcome and introductions 
-discover how to bring out the best in the panelists and facilitate conversation
-learn techniques to keep conversations informative, lively, on point and on time
-learn how to project confidence, communicate your message and showcase your  expertise effectively
-learn how to feel at ease, exude confidence and personality on camera for company and department videos
-learn how to use body language, facial expressions and voice to convey your message
-learn teleprompter skills
-understand how the media works
-confidently handle any interview
-develop key messages that will build your credibility and help share you and your company's vision
-learn how to speak in soundbites and create memorable quotes
-practice on camera interviews with feedback
Communication Training For Women
-discover your authentic voice
-break through internal barriers
-become confident, clear and effective communicators
"I was nervous before training with Angela, but the skills and exercises I learned during the training have lowered my anxiety before speaking, increased my presentation confidence and prepared me for my event and panel discussion. Her training is interactive and a lot of fun. There were a lot of opportunities to practice speaking. The exercises and techniques to deal with anxiety, excess energy and voice training were very helpful and helped me achieve my goals." 
"One of the top executives in my company shared how he was inspired by my words and said, "Where have we been hiding you, you need to speak at more events!" Being able to share my story is giving me the opportunity to support and mentor other women in my company and has opened up new community connections for my company and my passion for supporting others and impacting change. Thank you for being a positive force. "
"I knew I would get concrete tips and skills, but I didn't know how deep and insightful it would be. I feel like it's going to take me to the next level, not just in my presentations, but my leadership, my business, my personal life and give me more clarity and connection. I'm deeply grateful and appreciative."
Keynotes, Customized Group Workshops/Training and One on One VIP Private Coaching Available