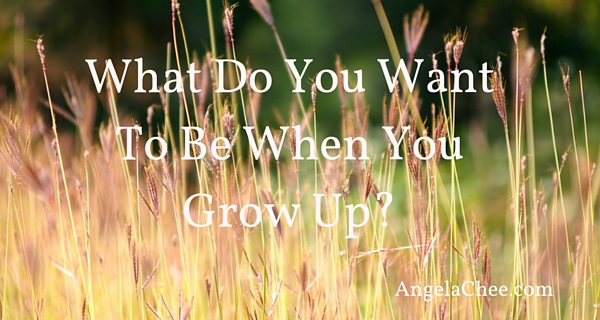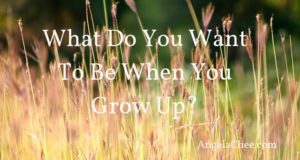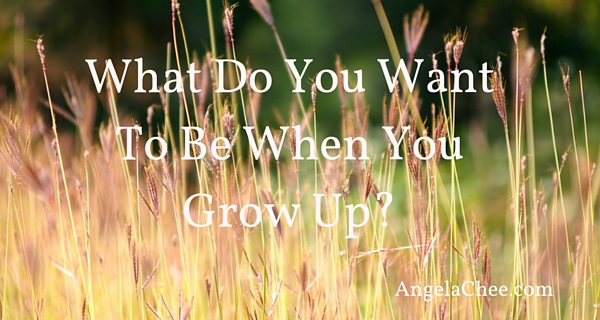 What Do You Want To Be When You Grow Up?
I watched a video this morning of adults being asked this question ,"What do you want to be when you grow up?" and it completely caught them off guard and they didn't quite know how to react? Some laughed, others felt sad, others sat silent.
Why is this question only reserved for children?  Are they the only ones allowed to dream?  To have curiosity, the excitement of the unknown and the drive to figure it out and go for it?
Do we ever really stop growing?  Even if we have chosen our path in life, our career, have kids, whatever, why doesn't anyone ask us this question anymore? Why don't we ask ourselves?
Maybe you're in a great place and have achieved what you wanted to be when you grew up, but that doesn't mean it's over.  Maybe you put things on hold, it's still not over.
When I was little the first entry in my diary when I was 8 was that I wanted to be a doctor.  That wasn't me talking, (sounds like a little of the Chinese brainwashing from my mother:).)
That was short-lived, but what I always wanted to be, ever since my dad said while watching TV, "Hey you can be like Connie Chung!" was I wanted to be a broadcast journalist.  Funny thing is, I became one, through lots of hard work, long hours and constant learning.
And I loved it.
But that wasn't it.  That's not all.  I'm grown up and I'm still growing.  And so are you?  So what do you want to be when you grow up?  There are many more chapters in our lives and it's never too late to start something new or try something you given up on-in your life or in your business.
It all starts with a vision.
I believe in vision. When I was little I used to make a list everything I wanted to accomplish.  I know "Type A" of me.   Every time I achieved it I would it cross it off.   I guess I was manifesting, even before I knew what that meant.  That's why I was honored to support the Fierce Women Project this month (The platform helps young girls connect with women leaders to inspire, engage and empower them to create a vision of their future selves) and donate Vision Books  To Girls Inc. San Diego.(I'll find out how they put them to use later.)
You see it's all in us.  We usually know what we want to do, the hard part is creating a plan and actually doing it.  As we get older life gets in the way, internal barriers stop us, or just finding the time.  But we all know if we want something bad enough we make the time.
That's why one of my first steps in your FREE Easy 7 step Media Pitch Worksheet and Guide  is to discover your "WHY" and to create an overall vision for your media goals.  It not only helps your mindset, but helps you craft your messaging and choose your media target.  Then I walk you through the next 6 steps to book your first media interview.
If you downloaded my guide and never took action-here's your reminder.  The guide is jam-packed with step by step information. It's YOUR time to share your message with the world.
If you didn't get my free media pitch guide yet.  See below.
What do you want to be when you grow up?  Share in the comments.
I want to be joyful, creative and passionately inspire myself and others.  You see my vision isn't necessarily something I check off a list anymore.   It's what I strive for everyday in my business and life.
Get my pitch checklist + worksheet and create your plan for getting on TV
Here's to you and your voice,
http://angelachee.com/wordpress/wp-content/uploads/2016/07/What-do-you-want-to-be-.jpg
320
600
Angela Chee
http://angelachee.com/wordpress/wp-content/uploads/2016/02/angela-chee-logo-3.png
Angela Chee
2016-07-01 11:23:10
2016-07-01 14:33:36
What Do You Want To Be When You Grow Up?