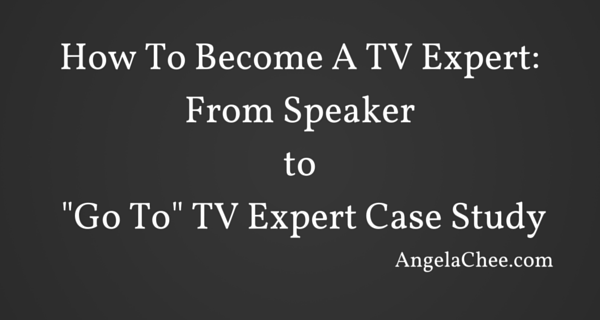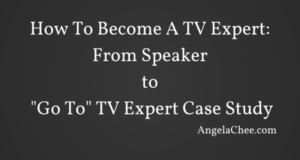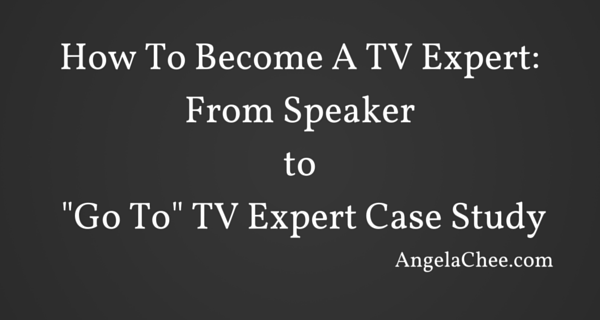 You have the expertise, you have a message and a mission, but how do you get noticed by the media and become a "Go To" expert in your field?
Today I want to give you an inside look at the process I go through with my clients to help them understand the media and create a pitch strategy and vision.
Media Momentum Case Study-How To Go From A Speaker To A "Go To" TV Expert
Amanda Hammett, a millennial expert was the winner of my website launch party giveaway.   Known as the "Millennial Translator" she helps companies get the best out of top millennial talent and is also an in demand speaker helping students and millennials thrive in the workplace and in life.
Amplify Your Visibility, Credibility and Impact More People
While she has achieved major visibility and success on the speaker circuit she hasn't had any major media exposure or made a TV appearance.   Her media goal is to become a TV Expert and book several local media interviews and eventually become a "Go To" Millennial Expert for national outlets as well.
She said, even though she knows getting media exposure would amplify her credibility, help her rise above all the noise in her space and help her impact more people with her message, she felt like it seemed too complicated and out of her reach.  Like it is a "secret insider world" that she doesn't have access to or understand.   
In just a short time we were able to create a media vision to show her what is possible and give her some strategies and a road map of action steps to reach her goal.
Welcome To Being A Media Insider 
Today I'm giving you media insider access and sharing some key takeaways that you may be able to apply.
-Website Review
First thing I did was review her website.  Great video, great testimonials, but no press page or easy way to find information to book her in one place.  She has all the elements, but just needs to package them together.
If you're in the same situation start thinking about creating a "one sheet or press page".  Click here for a post on how to put one together and what you need to include.
Media Insider Tip:  If you want to get media exposure make it easy for producers/show bookers to learn about who you are, what you do, what you talk about and why you are in expert in that field.
-Research Topics and Find A Local "Hook"
Then I did some research to see what relevant and timely topics she could pitch.  Her target market is Atlanta.  So I started looking for a local "hook" or tie in related to Atlanta and millennials. 
Media Insider Tip: Even if your topic is already timely, if you don't find the reason "why" your local station would care or want to cover it right now it may get overlooked.  It needs to be interesting, relevant, and/or timely to their audience.
For example, her expertise is millennials which is already a hot topic. Did you know that by 2030, over 75% of the workforce will be millennials?   But that by itself may not be enough to get local media's attention.  There are tons of stories about millennial this and millennial that, but why would her local city care?
Turns out Money magazine named Atlanta the country's second-best city for millennials and the Metro Atlanta Chamber of Commerce also started a new recruitment campaign this year "Choose Atlanta" targeting millennials.   That's a hook!
So while these stats weren't released today, they are still timely and she can use these stats as a lead in to make her pitch relevant and show she's done her research. 
You can apply this to any topic.  If there has been a recent study, article, statistic about your topic or expertise, use it as a tie in and hook and then explain why it's relevant and how you can add value to their audience.
-Watch and Target A Station
I also discovered one of the local stations just did a special "Rise Of The Millennials" last month.  So it's even more timely.  This would be a good time to check with the station and/or reporter covering that story and see if they were doing a follow up or needed a millennial expert to give some perspective on any related stories or topics they may be covering.
Media Insider Tip:  Watch the news and see if there is show that is a good fit for your expertise or have there been any recent stories that you could offer a follow up or add perspective.
-Create A Story Pitch/Segment Idea
Now that you have a hook you still need a story pitch.
How To Brainstorm Ideas?
 She had some great  You Tube videos that could be a relevant topic, if the timing was right.  If it's not enough for a morning news interview, maybe just pitch your expertise for any upcoming stories.  Including video clips is also a great way to show she is good and comfortable on-camera.
Media Insider Tip:  Be flexible.  Know that what you end up getting interviewed about may not be the exact topic you pitched, but can still be related to your expertise and help you grow your credibility and business.
Once you book the story you need to know what to expect and be on-camera ready. 
Do you know the difference between a live interview vs. taped interview vs. morning show?
Do you know how to provide valuable information to the audience and leverage your exposure while still being authentic?
If you want to be "THE Go To Expert",  you need to be a powerful spokesperson for you and your business and be ready for any situation.  Once you start putting yourself out there, you may just get the call.  And once the momentum starts, media may start calling you.  Will you be ready?
This is a just a little sneak peak at the thought process behind pitching.
If you want a step by step formula to follow download my FREE 7 Step Media Pitch Guide and Worksheet below.
This easy guide will walk you though step by step  and give you action tips in the worksheet to keep you on track.  
It will even give you the simple way to get hold of TV producers and bookers. (It's easier than you think.  Once my clients discover the secret they wonder why they didn't start reaching out to media earlier.)
Of if you want to create your own personalized pitch and work with me one on one check out Media Momentum Kickstarter. 
I'm excited to see what you and Amanda create to speak up and step into the spotlight.  It's YOUR time!  
Was this case study helpful?  What can you start applying today to help get you and your business seen?  Have you tried pitching stations, what worked for you and what didn't?  Leave a comment below.
Get my pitch checklist + worksheet and create your plan for getting on TV
Here's to you and your voice,
http://angelachee.com/wordpress/wp-content/uploads/2016/05/From-Speaker-to-TV-Expert-1.png
320
600
Angela Chee
http://angelachee.com/wordpress/wp-content/uploads/2016/02/angela-chee-logo-3.png
Angela Chee
2016-05-11 08:28:44
2016-05-11 14:01:29
How To Become A TV Expert: From Speaker To "Go To" TV Expert Case Study