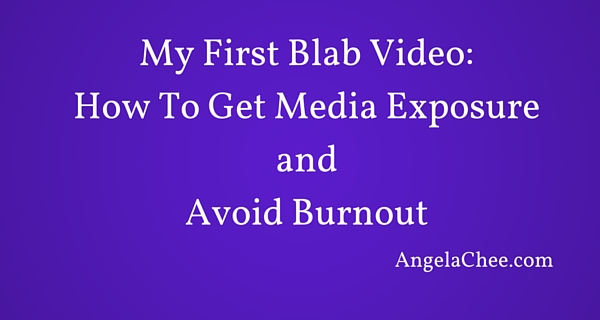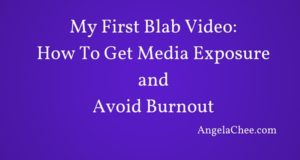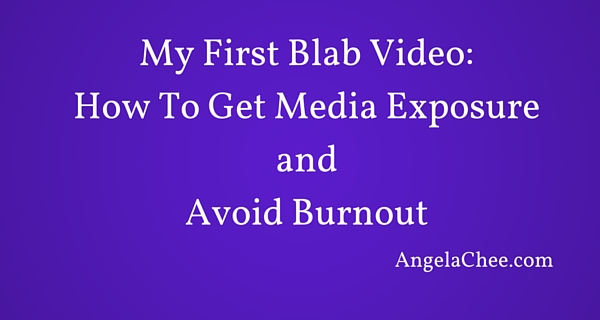 Need help putting more personality into your brand? Want to know how to break through all the noise in your industry?  Curious how media exposure can help grow your brand and help you master your message?  And want to see what Blab is all about?  And how laying on the couch helped me gain more clarity in my business?
Then check out my interview with Brand Coach and Momprenuer Sandra Guynes.  Here's a direct link on You Tube if you can't log in to Blab.
It's my first ever Blab video.
If you haven't heard of Blab yet, it's is a livestreaming platform that allows up to 4 participants to have a public conversation on video.  You connect through your Twitter profile and it's all LIVE.
I loved having the live interaction with viewers and being able to answer questions.  
What I love about Sandra is not just her business and branding savvy, but her upbeat no nonsense attitude and her fun spirit.  She's run several businesses and has been able to use the power of media to amplify her message and her mission.  She's been featured in the Huffington Post,Washington Post, Latina Magazine and dozens of local TV news stations and PBS.
I was honored to be her guest today to talk about how to get media exposure for your brand and how to avoid burnout.
We covered a lot of great content and answered some questions.  If you don't have time to watch the whole thing.  Here's a timeline of some of the key takeaways.
BLAB TIMELINE
2:08  Getting media exposure is not impossible-here's the formula.
2:36  Why the media needs you.
3:15  If I want to be a TV expert or thought leader where do I start?  How do I           master my  message?
4:17  Discover the 3 things that producers are looking for.
4:50  Get an inside look at a producer/reporter's mindset so you know how to            pitch  them.
5:52  Sandra talks about how she was able to position herself as a Brand                      Expert.
7:10  The secret to the press release.  Do you need them? How is that                              different than a pitch?
9:11  What should a pitch focus on?
9:40  How does TV and print differ when it comes to press releases and                        pitches?
10:11  What is a press page and what should be on it?
12:00 How do you create a business and brand that can breakthrough all the               noise?
13:00 Why traditional mainstream media is still important and why you need             it.
14:21  What to expect during interviews and why you need to be flexible.
14:59  Sandra shares why putting yourself out there and using video is                            crucial for your  business.
16:20  What is Media Momentum and how do you go from local to national                  coverage?
16:53  The story of how a health coach went from local media straight to The                Today Show and is now a featured host/expert on a primetime                              national show.
19:02  How Sandra got national coverage in the Washington Post?
21:00  Personal branding tips from Sandra
22:35  Why messaging is important, not just in TV interviews, but your                           business overall.
23:24  The #1 way to leverage your appearance.
23:59  How do you get presence and connect with your audience on air and in               life.
26:14  What is the best way to reach out to press? The secret to get your pitch              in front of them and break through all clutter.
28:14  Why not to get offended or take it personally if the media seems like                    they don't have time for you.
30:20  How timing and what show you pitch makes a difference.  Morning vs.               evening shows.  How to find the right show for your pitch.  
32:10  Top ways to leverage your exposure and why it doesn't matter if no one               is watching live
35:10 What is the best time to call the station?
35:20  Sandra shares the secret of evolving your brand.
39:10 Our burnout stories and how it affected our health.
44:44 How celebrating your wins prevents burnout.
47:24 How laying on the couch brought me clarity in my business.
49:49  Ways to prevent burnout and top 3 tips
I'd love to hear from you.  Did you like the Blab? Any question you want answered or topics you want me to cover in any upcoming Blabs or videos.  Post a comment below.
Get my pitch checklist + worksheet and create your plan for getting on TV
Here's to you and your voice,
http://angelachee.com/wordpress/wp-content/uploads/2016/05/My-First-Blab.jpg
320
600
Angela Chee
http://angelachee.com/wordpress/wp-content/uploads/2016/02/angela-chee-logo-3.png
Angela Chee
2016-05-20 01:08:47
2016-05-20 08:36:34
My First Blab Video: How To Get Media Exposure For Your Brand and Avoid Burnout