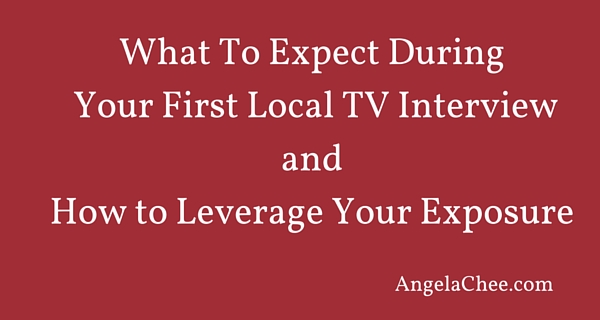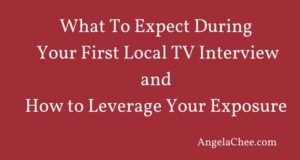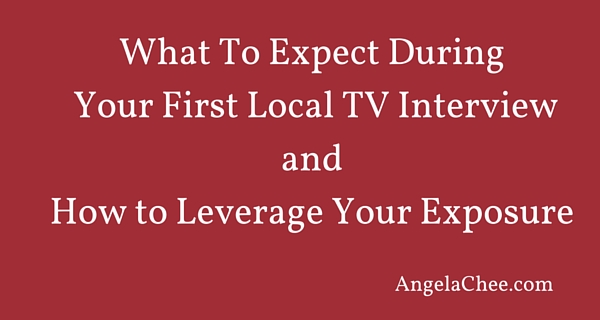 "Don't give up before you bloom, because the seeds you plant may grow at the most unexpected times." -Angela Chee
This is true in business, but especially in when it comes to media. 
One of my Media Momentum community members just made her first TV appearance as a "go to" social media expert.  I have been sharing insider tips with her for the past few months.  She had pitched a few stories, but was getting discouraged and wasn't sure when she would get a TV interview.  
Last week she finally got booked.  She was a bit nervous and needed some advice before her interview.
Our conversation inspired me to share key takeaways that will help you:
Attract more media attention

Be interview ready

Give you a sense of what to expect if you book your first TV interview 

Leverage your media appearance
Insider Media Tip: It's good to stay top of mind with producers. Just because they don't book you immediately, it doesn't mean they aren't interested.   It may not be the right fit right now, but if you are providing valuable information and content and they know you are on-camera ready, they will keep you in mind. You never know when they may need someone like you and you want to be ready for the call.
You Booked An Interview, Now What?
1. Know what questions to ask, so you can prepare for the interview.
Most producers will give you an overview, but they are short on time and may forget to give you all the little details.  If you are positioning yourself as a  "Go To Expert"  they expect you to be on-camera ready and be able to talk about your topic without much prep. 
Here are some things you should ask:
-Will it be a live, taped, in studio, or an on location interview? 
-Will you be on your own or part of a panel?
-Is it a morning show segment or part of a reporter's story? 
-How long will the interview be?
Why are these important?  Each one changes the dynamic of the interview and knowing these things will help you prepare effectively and know what to expect.
For example, this segment was for a morning show.  Originally it was going to be a live sit down interview with a news anchor, but then it switched to a live talk back where she was sitting in another room and the anchor asked her questions.
Why the last minute change?
Insider Media Tip: This was a production issue.  The interview following her was on the studio set with a group of people, so they needed to put her in a different location for variety and timing.
While her talking points for the interview were the same, this changed the dynamic of the interview.  She is no longer interacting with the anchor and seeing his or her face. She is talking to the camera and wearing an IFB in her ear to hear the anchor's questions.  She now needs to be comfortable with an IFB and know to look directly into the camera, as if she was talking to the anchor.
Insider Media Lingo: IFB stands for interruptible feedback.   In basic terms, an IFB is the earpiece that anchors/reporters/hosts wear to get cues, feedback or direction from their control rooms.
As a guest, you will only need an IFB, if you are doing interviews where the interviewer is not in the room with you. 
For example, in this case where they moved her to a different room and she needed to hear the anchors questions through an earpiece.  Other times this may be used for satellite press interviews or live in the field Q& A where there is no reporter.
 2. 

Act Like A Producer and Provide Value
The best guests know how to put together a story.  Tips are nice, but TV is visual. For example, in addition to bullet point tips for your segment, you can also send or suggest photos or clips.  They may not always use them, but it may be helpful.
Insider Media Tip:  It is usually the producer's  job to create these graphics and gather images, if needed. But the more you can provide the producer, the more time you will save them and the more likely you will build trust and get booked again. 
She sent tips and photos to go with each one.   This didn't take a lot of extra time because these are the same photos she used for a blog post on the topic.  But this extra added value will make her stand out as a "Go To" Guest.
3.

 

Be Prepared To Go Long or Short On Time During The Interview
The interview was originally scheduled for 4-5 minutes, but was cut to 2:25. This happens all the time in Live TV.
As a good guest you need to always be prepared to make your interview longer or shorter depending on what they need. Before the interview I told her to prepare a quick comment and story for all the tips.
She had a lot of information to cover in 2:25, but managed to fit it all in.  Instead of a graphic of the 5 points and images, they just put up each tip while she was a talking.
Insider Media Tip:  If you are short on time, outline the tips with a quick explanation.  If you need to stretch the interview, add a story. Always know how you are going to start and end an interview and the rest in the middle you can add or cut depending on how it's going. It always goes faster than you think it will.  
Knowing this skill allowed her to fit everything in without getting flustered and panicking on camera.
4. Leverage Your TV Exposure
While it's great to get exposure in your local community from your TV appearance, the exposure doesn't stop there.  TV Interviews are a great way to create more content, social media buzz, and gain credibility and exposure for your business or upcoming programs or events.
-Write a blog post on the topic you will be covering for the TV appearance and get extra  content without doing more work
-Create buzz "before" your appearance by sharing on your social media networks
-Embed the video into your blog post "after" the interview for added content
-Add the clip to your press page for extra promotion
-Add a "As Seen On" logo to your press materials
-Share link of video on social media networks after your appearance for extra visibility
-Use the link to get more local interviews and even national exposure
She also had a webinar coming up, so this publicity gave her more content and exposure to help create buzz and credibility.  While her segment wasn't the exact same topic as the upcoming webinar, the media exposure still gave her more visibility the weeks leading up to it, created interaction on her Facebook page and more buzz online.  She had lots of comments and shares and was able to interact with her community more and promote her webinar authentically.
Need more support when it comes to on-camera interviews?  Click here to schedule a consultation.
Or if you are still learning how to pitch download my FREE media pitch guide and worksheet below and I'll walk you through the pitch process step by step.
Get my pitch checklist + worksheet and create your plan for getting on TV
Here's to you and your voice,
http://angelachee.com/wordpress/wp-content/uploads/2016/05/Local-TV-Interview-and-Leverage-1.jpg
320
600
Angela Chee
http://angelachee.com/wordpress/wp-content/uploads/2016/02/angela-chee-logo-3.png
Angela Chee
2016-05-03 08:44:50
2016-05-03 10:17:19
What To Expect During Your First Local TV Interview and How To Leverage Your Exposure