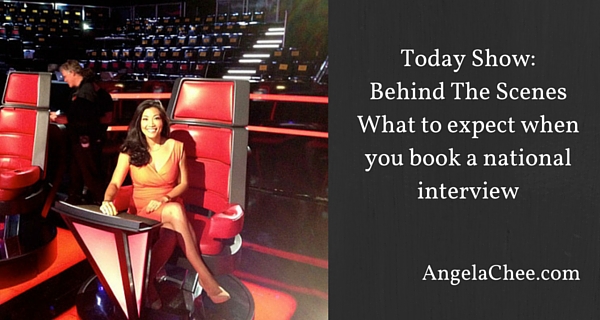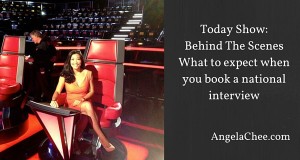 I got to be Shakira today.
Just kidding. Well, sort of.
Here's me on the set of The Voice! This is her chair.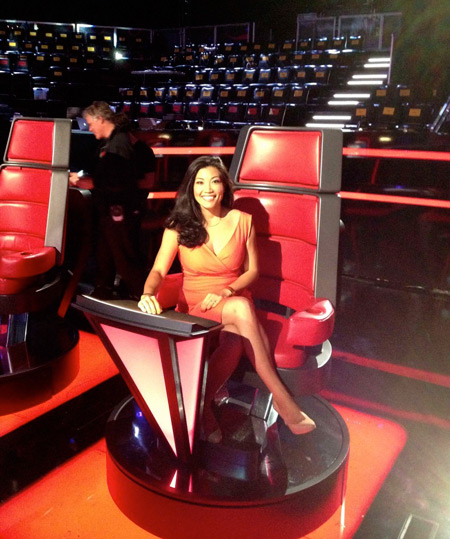 I just finished a segment on The Today Show with Kathie Lee and Hoda. Well actually just Hoda because Kathy had a medical issue and was still back in NY. Today was a special show Live from LA on set of The Voice. This was super cool, check out the set, it was amazing! They even had a live studio audience in the stands which pumped up the energy.

Why You Need To Be Ready, Before You're Ready!
I have been in contact with Today show producers for a while and a few days ago I got a call they were going to be in LA and wanted me to do a segment.
(Media Insider Tip: You never know when you may get a media opportunity or interview at the last minute. That's why it's always important to be prepared and take advantage of opportunities when they come up.)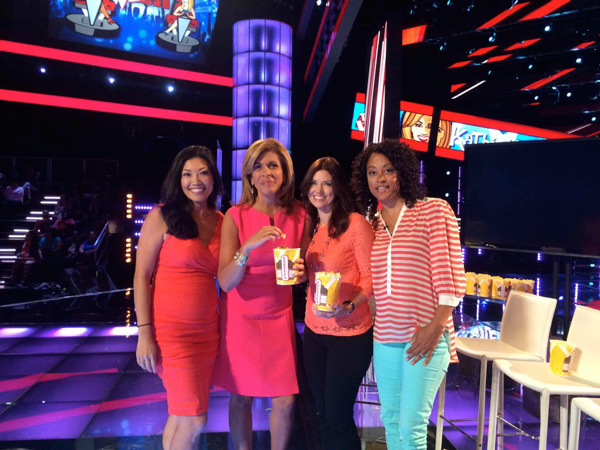 Behind The Scenes Secrets
I wanted to share some behind the scenes secrets to show you what it's like and what you can expect if book a national interview.
National interviews are little different than local news, in terms of they have more manpower to get things done. So more producers, crew, interns etc.
Here's a rundown of how the morning went.
The segment is was set to go live at 7:45 AM, which would be 9:45 NY time, but it got pushed back to the last segment!
TIP #1: Everything is fluid in Live TV. You may get moved up in time, moved back or even in the rare case cut. So you have to go with the flow and know there could be last minute changes.
Our call time(what time you are supposed to arrive) was 6 AM. Yes, that's about 1:45 early, but producers want to have every thing in place.
TIP #2: You always want to arrive on time, if not earlier.
We came hair and make-up ready, but there was a make-up artist to do touch ups.
TIP #3 : You always want to come camera ready. Most stations won't have make-up artists and if they do that's a bonus, but don't count on it.
We waited in the Green Room-(this is what they call the waiting area for guests.)There's usually a screen where you can see the show going on and food and water, etc.
That day it was really busy. Dermot Mulroney was there, so was Candy Spelling, David Walton actor from About A Boy and a bunch of publicists.
The TV screen wasn't working that day so we just had to wait for the producer to come tell us when it's go time.
TIP #4 : They will usually bring you out to the set about 5-10 minutes early. So always try to be mentally ready a few minutes early.
The producer went through some of the questions and what to expect.
Then it was time to go live.
TIP #5: Always prepare for what the producer asks for and tells you will happen, but just know the host or anchor may not follow the script. So you just need to go with it.
For example Hoda is so fun and natural she didn't really follow the questions and just did her own thing, so we had to be ready. Also we only got to about 3 of the 6 things we were going to talk about.
TIP #6 : It always goes faster than you think it will. You may not be able to get all your points across, so make your words count and always know your key messages.
The interview went super fast, it was fun and lively and then boom your done. Cut. Goodbye.
You spend all this time anticipating and boom it's over in a few minutes.
TIP#7 : Make sure you tape it or get a copy- so you can review the interview.
This will help you see if what you think you were saying actually came out of your mouth. It will also help prepare for your next interview and you can use it for marketing and amplifying on social media.
So we were live at the end the show and by 8:00 am LA time it was all done. Since there was a 3 hour time difference. It won't air in LA until 10:50am.
Hope you found this behind the scenes tips helpful. If you're interested in How To Pitch and Get On The Today Show, check out this post. Here's to your next interview!
What do you want to know about on camera interviews?  Or do you have an on-camera interviewing stories or tips you would like to share.  Let me know in the comments below.
Get my pitch checklist + worksheet and create your plan for getting on TV
Here's to you and your voice,
http://angelachee.com/wordpress/wp-content/uploads/2016/04/blog-Graphic.jpg
320
600
Angela Chee
http://angelachee.com/wordpress/wp-content/uploads/2016/02/angela-chee-logo-3.png
Angela Chee
2014-05-20 13:55:08
2016-04-07 23:02:07
BEHIND THE SCENES OF THE TODAY SHOW: WHAT TO EXPECT IF YOU BOOK A NATIONAL TV INTERVIEW