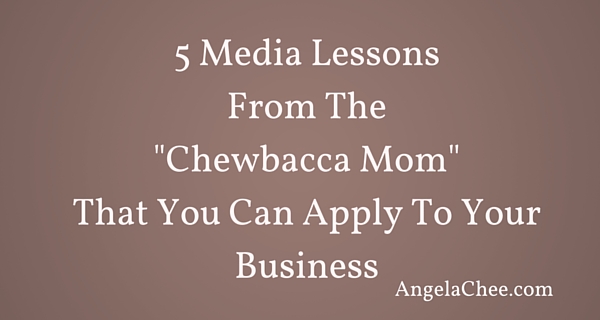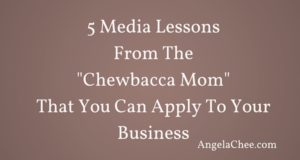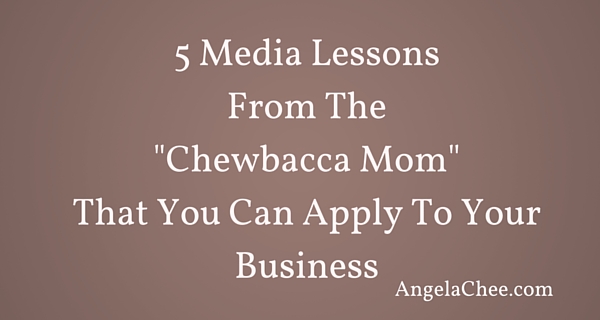 Have you seen the viral "Chewbacca Mom" Facebook Live video of the Texas Mom of 2 with her Star Wars mask filmed in her car?  If not, you should check it out.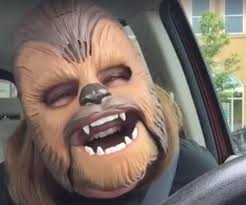 Her pure joy and infectious laugh will make you appreciate the simple joys in life. If you're like me, it may make your belly hurt or your eyes tear up and make you feel compelled to share it when you first see it.
The Power Of Pure Joy and Authenticity
This video demonstrates the power of pure joy, authenticity and how all of us may long for more happiness in our lives, but it's also a great example of the power of media to spread your message.
In the last week, Candace Payne AKA "Chewbacca Mom" has appeared on Good Morning America in New York then flew to LA for The Late Late Show with James Corden, met JJ Abrams-Star Wars Director, visited Facebook Headquarters to spend a day with Chewbacca and has been featured in dozens of TV shows, magazines and newspapers from Entertainment Tonight to People Magazine to the Huff Post and the Wall Street Journal and much more.
Her impromptu video which started with a trip to Kohl's to buy yoga pants and turned into her sharing her Chewbacca mask find and is now the most watched Facebook Live video ever with more than 141 Million views and counting.
While your business goal may not be to make a viral video and launch to instafame there are some major media lessons you can learn from the "Chewbacca Mom" phenomenon that you can apply to your business and your mission.
The Secret To Being On-Camera Is Authenticity.
What makes this video so powerful and resonate with so many people is her authenticity and ability to connect with the audience.  She shares her pure joy and is not afraid to speak her truth (she declares this mask her birthday present to herself and not for the kids). She lets her personality shine through, her infectious laugh is unfiltered and unique to her.
Media Tip:  Sometimes it maybe hard to resist the urge to want to be perfect in video, but what really connects with your audience is your message and your personality.  Find what makes you you and don't be afraid to put it out there in your videos.
2. Use The Power of Media Momentum
Media loves media.  If you have a message or something to share that connects with an audience your message can grow. 
This is what I call "Media Momentum".  One media mention leads to the next.  Soon the media may be calling you. From a video to a small media outlet to national exposure, then that  exposure can be amplified across social media leading to even more buzz and more media coverage. The opportunities are endless.
For Candace Payne it started with a simple video which led to Kohl's making their own video surprising her and her family with Star Wars gifts, then a GMA appearance, then a carpool skit with James Corden, and much more.  There's also residual effects. Kohl's is getting a big marketing boost from "The Chewbacca Mom" the mask is now sold out online.
Media Tip: The power of media momentum once it starts is so strong, you never know where it may lead. It doesn't matter where you start, just start.

3.  The Media Is Always Looking For Newsworthy, Interesting and Topical Stories
The criteria for producers and reporters looking for stories usually comes down to three things:
Is it newsworthy? Is it interesting? and Is it topical?
Besides being just a fun heartwarming video, the Chewbacca mom story met the criteria and much more.  Breaking the Facebook Live record made it newsworthy.  It's interesting because it showcases the power of pure joy and that infectious laugh is just fun. It's topical because it all happened so quickly and was the talk of the internet.  The story has so many angles from moms to Star Wars fans to the power of the internet.
Media Tip: When trying to pitch the media think like a producer. Ask yourself what makes my story newsworthy, interesting or topical? 
4. You Need To Be Ready Before You're Ready
It's true she is a stay at home mom, but she's much more that that.  Long before her Chewbacca video went viral she had been sharing Facebook videos, she has a musical theatre background and has even auditioned for The Voice before.
She may not have been a media sensation before, but she was ready for her moment.
What impressed me about Candace Payne is not just her authenticity in her video, but her on-camera presence during her media interviews as well.  Here's a look at her GMA appearance.
What made this a great interview?  She maintained her authenticity and she was a great storyteller.  She was clear, articulate and had a message.  Her message was to spread joy and happiness and she stayed true to her message and even shared a bigger mission with a moving story.
"The best part of all of this is being able to share joy with people and hear stories of people coming out of depression  I had one lady tell me she has an autistic daughter that hadn't laughed in 2 months, and she said every time she showed her the video she laughed and laughed.  And from one mama's heart to another to see a child laugh that you haven't seen laugh, those are the stories I will take with me every day."
Media Tip: While you may not become a viral sensation overnight, you never know.  It's important to have clarity with your message, and be comfortable with who you are and what you stand for. When you start putting you and your business out there, the media may come calling and you need to be ready when they do or you may miss out your big break.
5.

 

It's Important To Leverage Your Media Appearance
My mission is to help people use the power of media for good.  Even though her media appearances are over for now she can still leverage that exposure to spread her message.  I'm sure she will be presented with a variety of opportunities and I hope she will continue to use her visibility to spread her message of joy and happiness and stay true to her authenticity. 
I'd love to hear from you.  What did you learn from "The Chewbacca Mom" and what do you plan to put into action in your business?
Get my pitch checklist + worksheet and create your plan for getting on TV
Here's to you and your voice,
http://angelachee.com/wordpress/wp-content/uploads/2016/05/chewbacca-mom.jpg
320
600
Angela Chee
http://angelachee.com/wordpress/wp-content/uploads/2016/02/angela-chee-logo-3.png
Angela Chee
2016-05-27 22:10:48
2016-05-31 10:49:01
5 Media Lessons From "Chewbacca Mom" That You Can Apply To Your Business